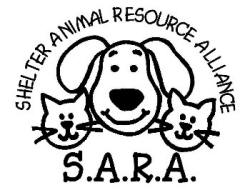 S.A.R.A.ís Treasures
A Better-Quality Thrift & Gift Shop Operated by:
Shelter Animal Resource Alliance
Located at:
Hours:
10:00-6:00 Everyday!
541-607-8892















Thanks to your support we have rescued 960 dogs and 778 cats from being killed/euthanized at local animal control shelters.
We have also assisted other rescue groups by sponsoring the spay/neuter of 139 cats and 23 dogs for low income families, which we estimate will save the lives of at least 1390 shelter cats and 368 shelter dogs.
Pet Portraits for a Cause
Artist: Alix Mosieur
Local artist Alix Mosieur has graciously offered to donate her services to S.A.R.A. For a minimum donation of $25 per portrait Alix will create a beautiful 8" x 10" color pencil drawing (suitable for framing) of your dog, cat, horse or other companion animal. Other sizes are available. For more details or to schedule a session please call S.A.R.A.'s Treasures at (541) 607-8892 or email us at: office@sarastreasures.org. All proceeds will go toward rescuing shelter animals in Western Oregon. Thank you for your support!
---
About the Artist

"I live and work in the town of Lorane, Oregon with my husband, Bruce. I am mostly self-taught in my art, but I did study at Santa Barbara City College and at the University of Oregon. I have taught an art class at the Coos Bay Art Museum in Oregon; and my work has been shown at the Santa Barbara Art Museum, the Coos Art Museum, Oregon and several arts galleries in California and Oregon. I have won first place awards including Joseph Days Festival in Joseph, OR; first place at Klamath Valley Annual Art Show; and first place at Umpqua Valley Arts Association in the Western Art Shop."
Examples of her work can viewed at Sticks & Stones Gallery in Old Town Florence, 2nd Street Gallery in Bandon and Hawks' World Gallery in McMinnville, Oregon.
"I have been volunteering for S.A.R.A. since its inception in 2001, and am constantly inspired by the work my dedicated friends do there everyday to rescue abandoned shelter animals who would otherwise be euthanized. I am happy to contribute my artistic skills to further the work of this wonderful organization"
Alix's art is diverse, and in addition to pet portraits, includes portraits of people, wildlife, horses, and commissions of all types.
Examples of Alix's work: (Click for full size)