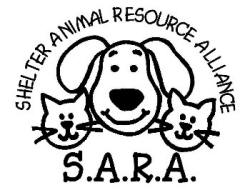 S.A.R.A.'s Treasures
A Better-Quality Thrift & Gift Shop Operated by:
Shelter Animal Resource Alliance
Located at:
Hours:
10:00-6:00 Everyday!
541-607-8892















Thanks to your support we have rescued 960 dogs and 778 cats from being killed/euthanized at local animal control shelters.
We have also assisted other rescue groups by sponsoring the spay/neuter of 139 cats and 23 dogs for low income families, which we estimate will save the lives of at least 1390 shelter cats and 368 shelter dogs.
NEWS
S.A.R.A. in the News: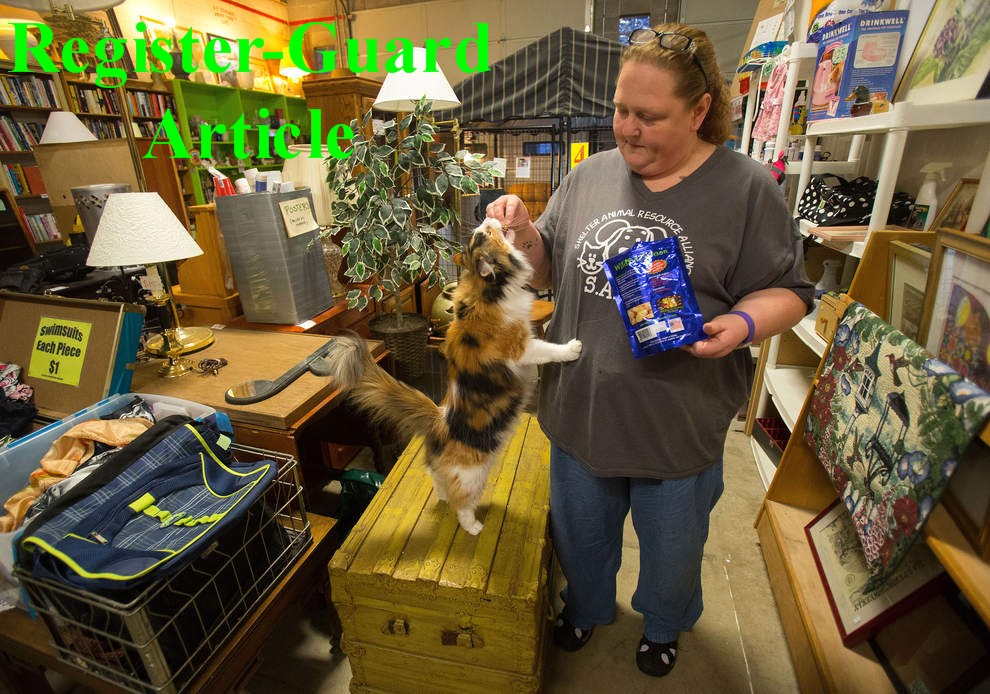 December, 2016
- 10/11 Eugene Daily News: Treasures Await at Eugene Thrift Store/Animal Shelter
- 07/11 KMTR: S.A.R.A.'s Treasures Celebrates 10th Anniversary
- 04/11 River Road/Santa Clara Tribune: S.A.R.A.'s Treasures
- 10/10 Seattle Times: Exploring Eco-Friendly Eugene by Bike (S.A.R.A.'s Treasures is mentioned as Most Unusual!)
- 09/10 Photographs of S.A.R.A. at the Eugene Celebration
- 08/09 Eugene Weekly: Letter to the Editor
- 01/08 Eugene Weekly: Happening People—Diana Robertson
- 12/07 Eugene Weekly: Generosity
- 08/07 Eugene Weekly: Gimme Shelter-Adopt a Shelter Animal
- 02/07 Register Guard: Participants Tap their Funny Bones
- 02/07 Register Guard: Spay/Neuter Assistance on the Way
- 11/05 Register Guard: Agencies Round up Goodies for New Pets
- 09/05 Eugene Weekly: Happening People—Melinda McCormick & Nicole West
- 06/03 Register Guard: S.A.R.A. Links Animals to Chance of Survival
- 01/02 Register Guard: Animal Rescuers Staff River Road Thrift Store
- 02/01 Register Guard: Animal Protection Groups Seeks Funding
Other Local Animal News
- 07/12 Eugene Weekly: Animal lovers fight over Greenhill
- 02/12 KEZI News: New Budget Model Will Affect Lane County Animal Services
- 12/11 Eugene Weekly: Lethal Hazard-A Wildlife Services Trap Kills Pet Dog
- 08/11 My Eugene: Ringworm Outbreak in Local Shelters
- 02/10 Register Guard: Spay/Neuter Programs Only Way to Halt Pet Overpopulation
- 09/08 Register Guard: LCAS Mistakenly Kills Two Pit Bulls
- 07/08 Register Guard: Plan to Save Cats/Dogs Gets Ok
- 01/08 Eugene Weekly: Catch & Release
- 08/07 Eugene Weekly: Punish the Deed, Not the Breed
- 08/07 Eugene Weekly: The Road to No-Kill
- 04/07 Eugene Weekly: Advocates Call for No-Kill
- 01/07 Register Guard: Neutering for Pets is Urged
- 11/06 Register Guard: Influx of Cats Tests Shelter's New 'No-Kill' Effort
- 11/06 Register Guard: The New No Kill Community Coalition Bands Together
- 08/06 Register Guard: NKCC sets Priority on Building Spay/Neuter Clinic
- 08/06 Eugene Weekly: Animal Welfare Advocates Proposes 'No Kill' Policy
- 07/06 Register Guard: Advocates Spreads Hope for Shelter Animals
- 04/06 Register Guard: Advocates Push for 'No-Kill' Policy
- 04/06 Register Guard: 'No-Kill' Doesn't Mean No Killing
---
© 2005-2012 Shelter Animal Resource Alliance. Eugene, Oregon All Rights Reserved